Instagram has grown to be one of the most popular social media platforms. In fact, in June 2018, Instagram reached 1 billion monthly active users. With this level of popularity, it's no surprise that businesses are using Instagram to promote their products and services.
Given its popularity, brands should consider using Instagram as part of an overall marketing strategy. And you can also use it to sell your products as an affiliate marketer with the help of an Instagram affiliate as a way to build your own business while supporting other businesses at the same time.
Read on to learn more about how you can use Instagram for your own business and why you should also use it to sell other people's products too.
The first step in Instagram affiliate marketing is identifying the right influencers. You can get started by looking at their follower count and engagement rates, but it's also important to look at their content quality, niche, and industry expertise. Once you've found the right influencer, you then have to determine what type of agreement you're going to make with them.
There are three main types of agreements: pay for post, pay for product placement, and exchange for publicity (exposure). The type of agreement you choose depends on your budget and how much control
What Is Instagram Affiliate?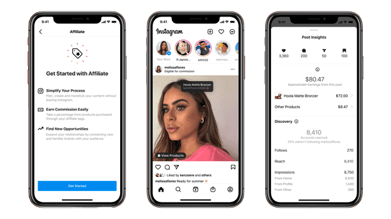 Affiliate marketing lets you earn a commission by promoting products from other businesses. There are a variety of ways you can do this, including writing reviews, creating your own content, and linking to products on your own site. With affiliate marketing, you'll earn money whenever a customer clicks through your link and buys a product.
The sale is technically affiliated with your product because your customer reached that sales page through your affiliate link. Instagram affiliate marketing gives you another way to make money through affiliate marketing by promoting other businesses' products through your Instagram account.
You can easily link to products using the Shopify app, allowing you to seamlessly promote products within your feed. Instagram's visual nature makes it a great place to promote products and earn commissions through affiliate marketing.****
Influencers make money on Instagram app through commissions on affiliate links, selling merchandise and Digital products, on the platform. These affiliate links on Instagram are designed to drive traffic to specific products, and eventually to convert visitors to customers.
At the moment, many influencers use third-party affiliate monitoring tools to earn a living off their product suggestions. On their website, Instagram says creators can nonetheless use these packages even whereas utilizing Instagram Affiliate, however payouts will solely come from whichever hyperlink drove the acquisition.
How Can Instagram Affiliate Help Your Business?
Instagram affiliate marketing is an easy way to increase your website traffic, build valuable partnerships, increase your reach, raise brand awareness, and enhance social proof. To get started with an affiliate program, determine your goals, evaluate the competition, determine your commission structure, choose your network and platform, and track your performance.
Well, there are many benefits of using affiliate marketing techniques and these are some of the best:
Improves brand awareness and engagement
Brands are making use of social media channels to increase their brand awareness and engage with their audience. They use social media to create a community that shares the same interests and values.
Influencer affiliate marketing is a form of marketing in which companies partner with social media personalities to promote their products and services via the affiliate link, post, or video. Influencers are chosen for the size of their following, the quality of engagement, and relevance to the product or service.
The influencer is an individual who has a significant impact on potential buyers because they have a large number of followers on social media. The influencer's followers are likely to trust this person and buy products or services that he or she recommends through their affiliate link.
Increased conversions and revenue
Finally, with an increase in awareness and engagement, new and strong relationships, result to an increase conversions and ROI. If customers trust the influencer that recommends your products through the affiliate marketing Instagram program, they are more likely to trust and buy the products and services you recommend.
Why Using Instagram as an Affiliate Marketer is a Good Idea
If you're looking for a new way to make money online, Instagram affiliate marketing may be a good option. This type of marketing is a great way to earn extra cash while supporting the brands and products that you love.
If you're interested in becoming an affiliate marketer and promoting products on Instagram, there are a few reasons why this is a good idea:
Wide variety of products: With more than a billion users, Instagram has a wide variety of products for you to choose from. You'll have no trouble finding products that are relevant to your audience and can help them solve their problems.
Visual medium: Instagram is a visual-first platform, making it a great place to promote products and earn commissions as an affiliate marketer. Using Instagram to promote products is a great way to reach a wide variety of people, especially if they're visual learners.
How to Start Using Instagram for Your Own Business
If you've decided to use Instagram for your own business, the first step is to create a business account. This means you'll have access to valuable insights and analytics that can help you improve your Instagram strategy over time.
Next, you should create a compelling Instagram feed that focuses on your brand and product. Make sure to post high-quality images and videos that show your product in action. You can also use Instagram Stories to provide your audience with more behind-the-scenes content and create a more personal connection with your brand.
Finally, you should start building an Instagram following by following other relevant accounts and engaging with your audience. You can use a variety of hashtags to increase your reach and make sure that your posts are reaching a wider audience.
How to Start Using Instagram as an Affiliate Marketer
Before you start promoting products through Instagram, you'll want to make sure you have a business plan and that you're following all relevant laws and regulations.
You'll need a few things to get started with affiliate marketing on Instagram. First, you'll need a product or service to promote.
Make sure to read up on the FTC's regulations for affiliates and follow any rules related to your country or state. Next, you should create a strategic Instagram feed that focuses on your target audience's problems and solutions. Ensure you only promote products that are relevant to your audience, even if they are not your own products.
Finally, follow relevant hashtags and engage with your audience. Take note of which products are being promoted in your feed and reach out to those brands as an affiliate marketer.
How To Make Money On Instagram With Affiliate Links
There are plenty of ways to make money on Instagram. You can sell your own products , promote brands you work for, or even become an affiliate for other businesses.
But one of the most underused opportunities is using your Instagram account as a way to monetize your passion and start a new side business. If you have a blog, an audience on another social media platform, or some recommendations from friends that could help you out, this post will teach you what you need to know about using affiliate links on Instagram to monetize that passion and make money in the process.
In this article, we have covered why affiliate marketing works so well on Instagram and explain how it works in detail. From there, we'll give some tips and tricks on how to get started and provide resources for creating your first affiliate link with ease.
Think about what your target audience would be looking for. What do they need? – Affordable: You want to find a product that's affordable for your audience. If the product is out of the price range of your target audience, they won't be able to buy it.
Conclusion
As we've seen, there are a lot of benefits to using Instagram for your own business. It's a great way to get more exposure for your brand, engage with your customers and build a community around your product.
Instagram is a visual-first platform, making it a great place to promote products and earn commissions as an affiliate marketer.
Affiliate marketing is a great way to make money on Instagram without having to create your own products. All you have to do is a link to an existing product, and then you get a portion of the profit from any sales.
You can do this with any hobby or interest that you have, and you don't need a flashy account to make this work. With the right product and a few posts, you can quickly start to make a few extra bucks while you're at home or on vacation. And who knows? This could be the first step toward starting a new business.